距今年12月的英语四六级只有半个多月了,孩子,你怕了吗?
别急,今天小编专门收集了一些四六级知识点,供大家参考,准备好收藏吧!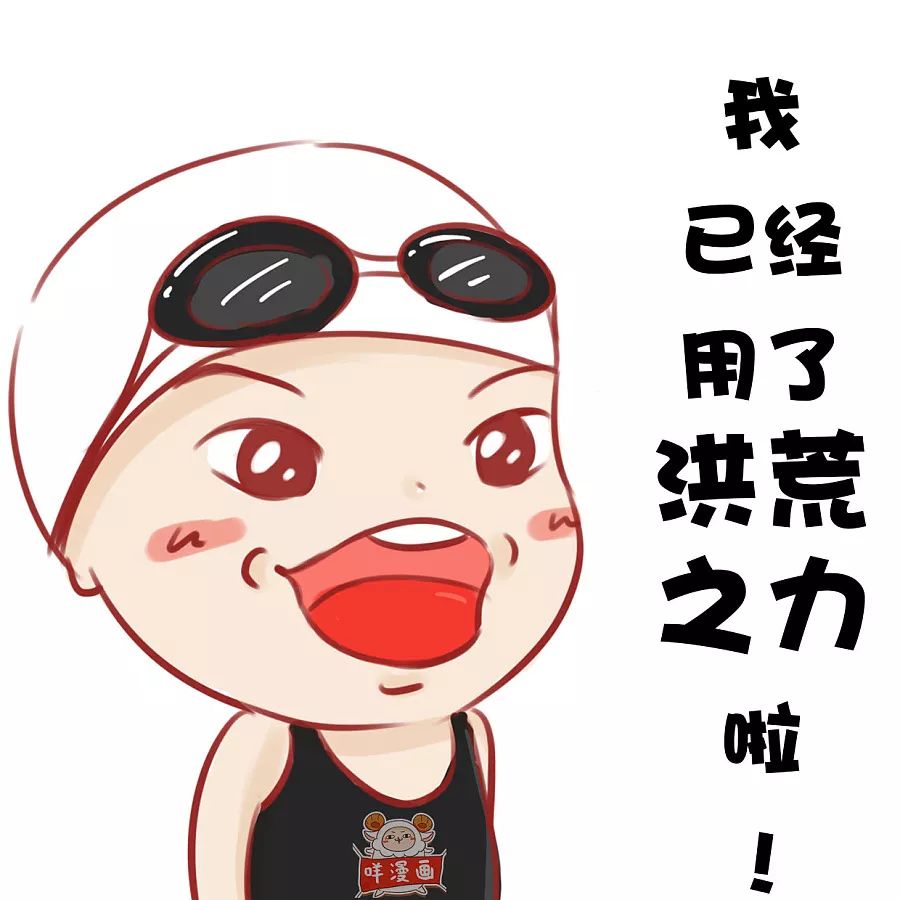 第一波:高频词组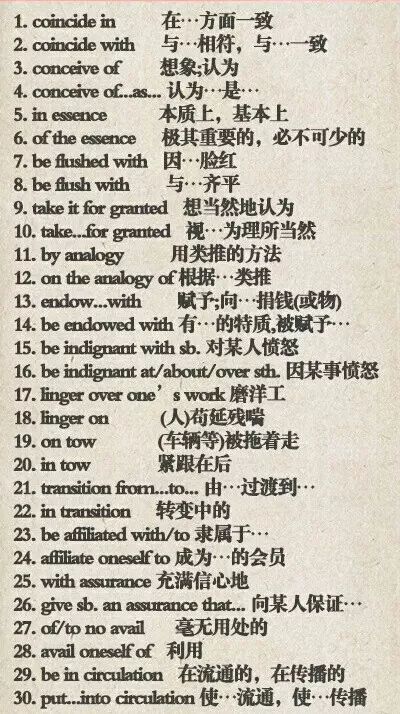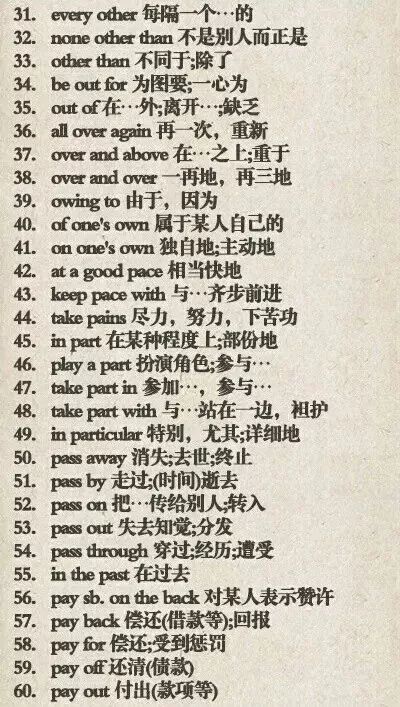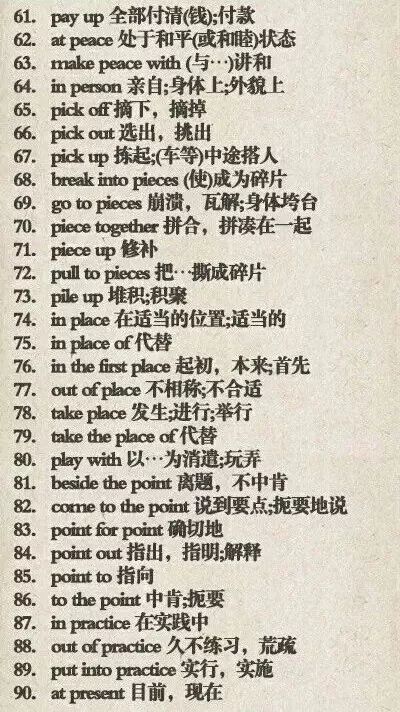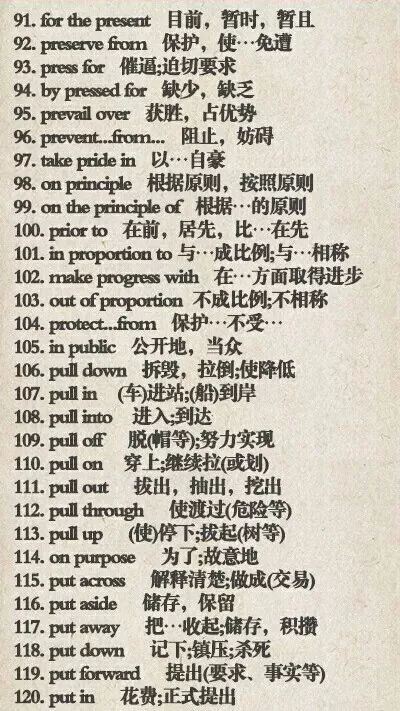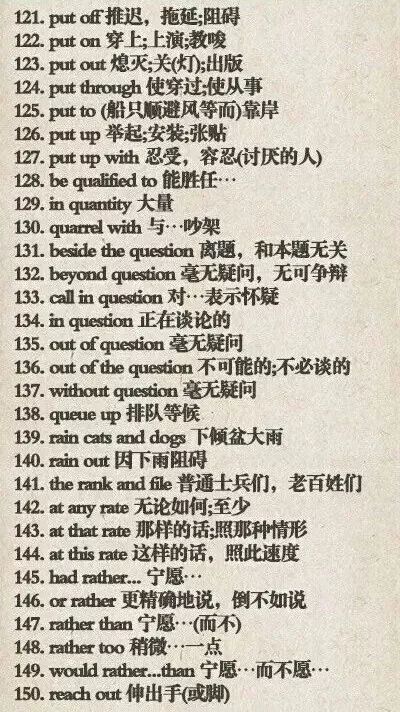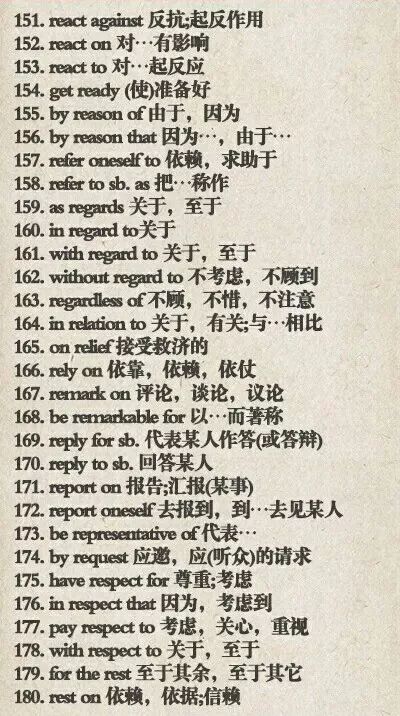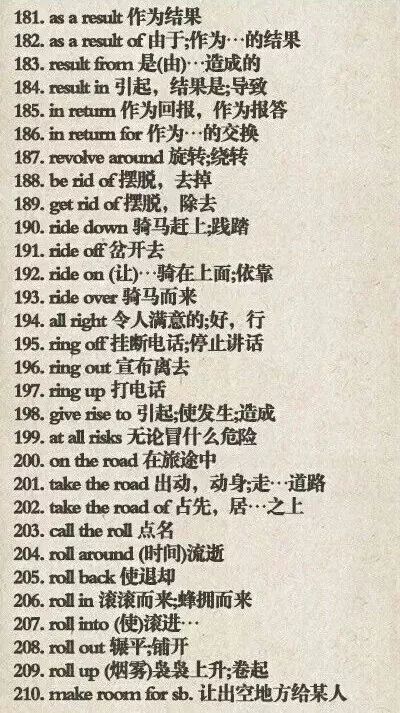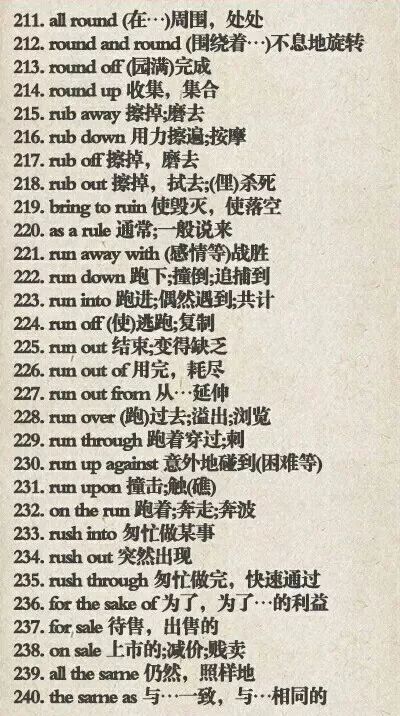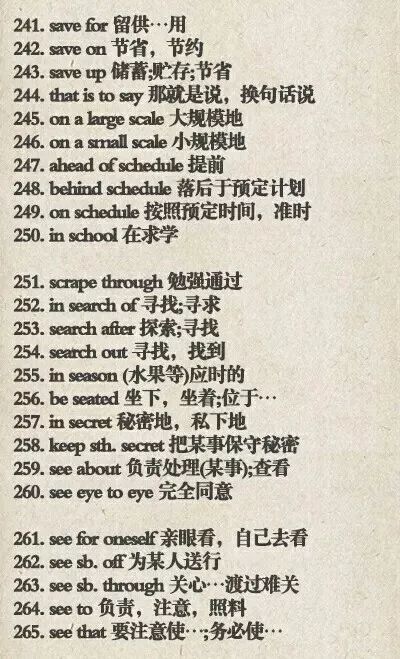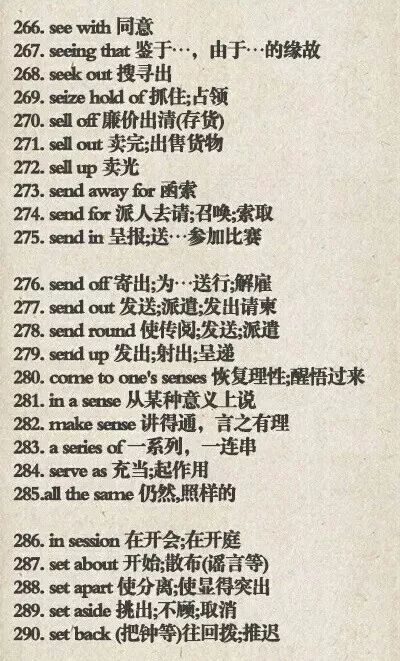 第二波:四级常用句型
1. Recently the phenomenon has become a heated topic.
2. Recently the problem has been brought into focus.
3. Nowadays there is a growing concern over ...  .
4. What calls for special attention is that...
5. There's no denying the fact that...
6. what's far more important is that...

7.It is common knowledge that honesty is the best policy.
8. It is well-known that…
9. Many nations have been faced with the problem of ...
10. According to a recent survey, ...
11. With the rapid development of ..., ...


1. From what has been discussed above, we can draw the conclusion that ...
2. In conclusion, it is imperative that ...  3.In summary, if we continue to ignore the above-mentioned issue, more problems will crop up. 4.With the efforts of all parts concerned, the problem will be solved thoroughly.
5.Taking all these into account, we ... 6. Whether it is good or not /positive or negative, one thing is certain/clear...
7.All things considered, ...
8.It may be safely said that...
9.Therefore, in my opinion, it's more advisable...
10. It can be concluded from the discussion that...
11. From my point of view, it would be better if...

1. The advantages far outweigh the disadvantages.
2. The advantages of A are much greater than those of B.  3. A may be preferable to B, but A suffers from the disadvantages that... 4. For all the disadvantages, it has its compensating advantages.
5. Like anything else, it has its faults.
6. A and B has several points in common.
7. However, the same is not applicable to B.
8. A and B differ in several ways.
9. Evidently, it has both negative and positive effects.

1.A number of factors are accountable for this situation. A number of factors might contribute to (lead to )(account for ) the phenomenon(problem).
2. The answer to this problem involves many factors.
3. The phenomenon mainly stems from the fact that...  4. The factors that contribute to this situation include...
5. The change in ...largely results from the fact that...
6. Part of the explanations for it is that ...
7. One of the most common factors (causes ) is that ...
8. Another contributing factor (cause ) is ...
9. Perhaps the primary factor is that ...
10. But the fundamental cause is that ...

1.It may give rise to a host of problems.

2.The immediate result it produces is ...
3.It will exercise a profound influence upon...
4.Its consequence can be so great that...

1.It is true that ..., but one vital point is being left out. 2. There is a grain of truth in these statements, but they ignore a more important fact.
3.Many of us have been under the illusion that...
4.It makes no sense to argue for ... 5.Such a statement mainly rests on the assumption that ... 6. Contrary to what is widely accepted, I maintain that ...

1.No one can deny the fact that ...

2.The idea is hardly supported by facts.
3.Unfortunately, none of the available data shows ...
4.Recent studies indicate that ...
5.There is sufficient evidence to show that ... 6.According to statistics proved by ..., it can be seen that ...
第三波:六级常用句型
1.  As the proverb says…
2. It goes without saying tan…
3. Generally speaking…
4. It is quite clear than because…
5. It is often said that …
6. Many people often ask such question:"…?"
7. More and more people have come to realize…
8. there is no doubt that…
9. Some people believe that… 10. these days we are often told that, but is this really the case?
11. One GREat man said that… 12. Recently the issue of… has been brought to public attention.
13. In the past several years there has been…
14. Now it is commonly held that… but I doubt whether…
15. Currently there is a widespread concern that…
16. Now people in growing number are coming to realize that… 17. there is a general discussion today about the issue of … 18. Faced with…, quite a few people argue that…, but other people conceive differently.
1. From what has been discussed above, we can draw the conclusion that …
2. It is high time that strict measures were taken to stop …
3. It is necessary that steps should be taken to …
4. In conclusion, it is imperative that …
5. There is no easy method, but …might be of some help.
6. To solve the above-mentioned problem, we must …
7. In summary, if we continue to ignore the above-mentioned issue, more problems will crop up.
8. With the efforts of all parts concerned, the problem will be solved thoroughly.
9. We might do more than identify the cause ; it is important to take actions to …
10. Taking all these into account, we …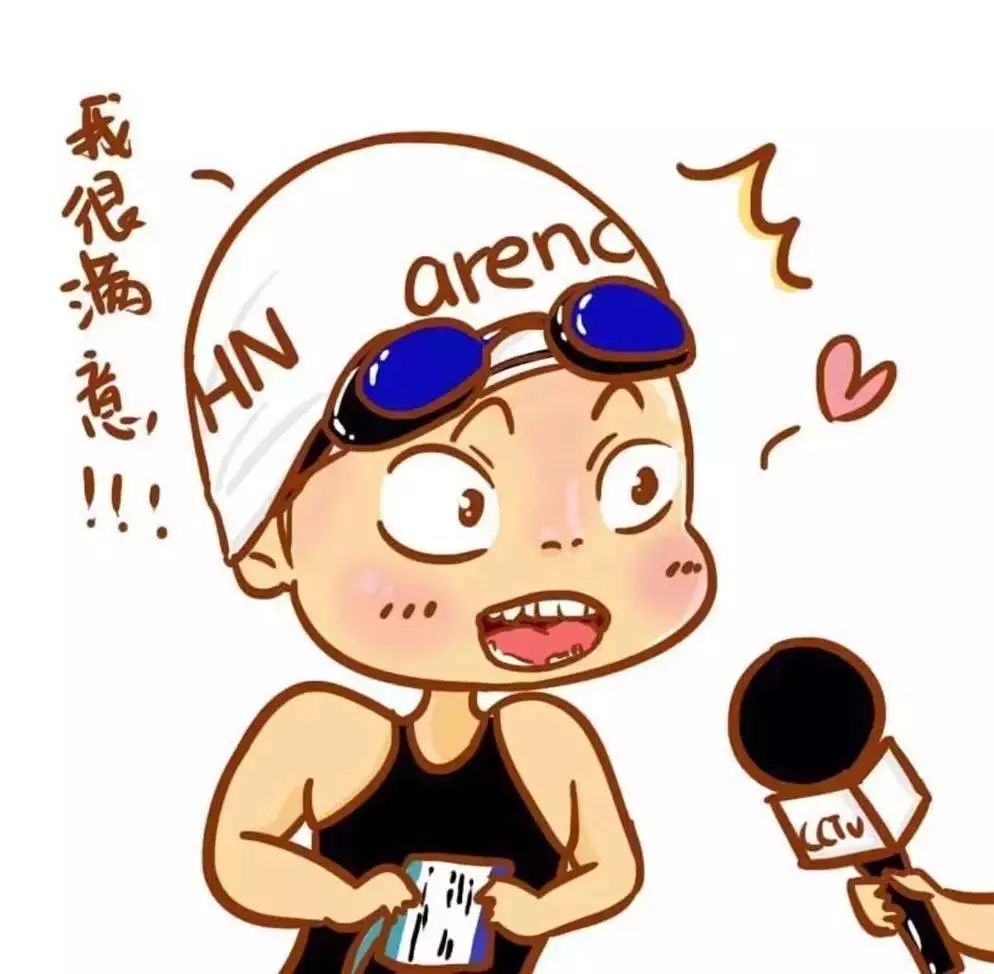 文/图:网络
微信编辑:赵艳
scmygqt

感谢您关注民院官微!我们欢迎文字、图片、音频、视频等形式的投稿!

投稿邮箱:scmygfwx@163.com

四川民院共青团官方微信(转载请注明出处)

◆  ◆  ◆  ◆  ◆  



责任编辑:赵艳